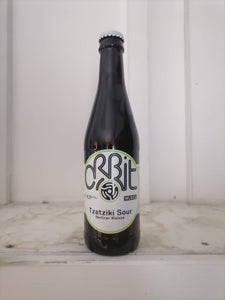 Orbit Tzatziki Sour 4.3% (330ml bottle)
Inspired by head brewer Paul's double summer holiday to Brussels, Belgium & Symi, Greece, where the combination of moreish Belgian sours and delicious mezze under the Grecian sun sparked a brilliant idea.
This award-winning Berliner Weisse-influenced kettle sour emulates the flavours of the classic Greek yoghurt dip. A clean, vibrant & zingy summer refresher. Originally brewed by Paul at Mad Hatter Brewery in Liverpool! We decided to bring the beer back to life down in south London. Straw yellow colour, hazy white foamy head, with aromas of cucumber, mint, and lemon & lime citrus with a light malt character. Creamy smooth mouthfeel, with a mildly tart lactic sourness. Light, dry finish with mellow bitterness and soft to medium carbonation.