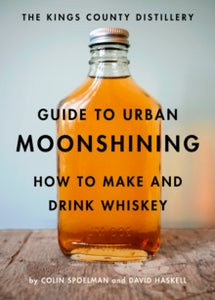 The Kings County Distillery Guide to Urban Moonshining : How to Make and Drink Whiskey by David Haskell and Colin Spoelman
Regular price £18.99 £9.50 Sale
Given how frequently it's consumed, whiskey is surprisingly misunderstood. People love it but are often strangers to it. The difference between scotch and bourbon, between pot and column distillation, even between brewing and distilling-it's all a little hazy, even for many brown liquor enthusiasts.
David and Colin see the self-consciousness at every tour they conduct at their Brooklyn distillery: People who love bourbon enough to pay them a visit often have no idea how to talk about what they like to drink. The book is a guide to American whiskey-not simply a taxonomy of brands and types, but also an introduction to how whiskey is manufactured and produced, an investigation into its history (in cities from New York to Kentucky), a tour through contemporary whiskey culture among younger, urban drinkers and a memoir of the author's own experience as the proprietors of a small but nationally visible whiskey distillery in Brooklyn. Beginning with a section that explains how to make whiskey, the book includes a list of the supplies, the science that needs to be understood and a simple and safe step-by-step procedure, clarified with diagrams.
Providing readers with everything they need to know to start making moonshine themselves, the practical instructions are coloured by anecdotes and helpful tips learned from the authors' own experience. Accented by whiskey history, lore and trivia, the second section of the book addresses how to drink whiskey, including a basic initiation to the established brands, an introduction of newcomers and the micro-distillery scene and interviews with some of the best cocktail bartenders and respected whiskey experts. A list of not-to-be-missed places that serve whiskey in New York and beyond, the ideal whiskeys to own to create the perfect bar and tasting notes will also be included.
With photographs of distilleries and cocktails, playful and informative infographics (e.g. of a whiskey family tree and the most intriguing movies, books and music about whiskey) and line drawings, the book is a beautifully illustrated, comprehensive and entertaining look at America's relationship with whiskey, past and present.