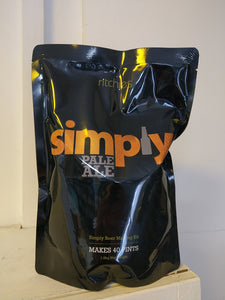 Ritchies Simply Pale Ale Kit
Regular price £13.50 Sale
Each Simply Beer Kit has been crafted with the help and expertise of our dedicated team of master brewers. Each kit uses a blend of high quality malt extracts from numerous producers from around the world, with the addition of genuine brewer's yeast used in each and every Simply Beer Kit has helped us achieve our goal in creating a range of kits that is truly outstanding when it comes to quality, taste and value.

The Simply range uses the latest advances in technology and packaging. Each Simply pouch is 'cold filled' with liquid malt extract as opposed to the traditional 'hot filled' canning method, by doing so makes for a final fresher tasting beer. By using a pouch enables us to use less packaging materials and helps reduce cost by up to two thirds, allowing us to invest more into higher quality ingredients.
An elegant easy drinking beer with good malt sweetness with a hint of vanilla and a clean aftertaste.