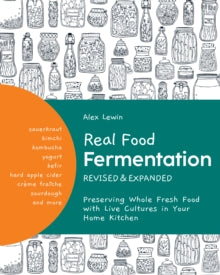 Real Food Fermentation, Revised and Expanded : Preserving Whole Fresh Food with Live Cultures in Your Home Kitchen by Alex Lewin
Regular price £19.99 Sale
In this newly revised and updated edition of Real Food Fermentation, discover how to preserve your favorite foods with simple techniques and recipes. Learn the process of fermentation from start to finish, and stock your pantry and refrigerator with delicious fermented fruits, vegetables, dairy, and more. You'll find information about why these recipes work, why they are safe, what to do when things don't go to plan, and how to modify recipes to suit your taste.
Fermenting is both an art and a science, and Alex Lewin expertly takes you through every step, including an overview of food preserving and the fermentation process. Get to know the health benefits of fermented foods, and learn the best tools, supplies, and ingredients to use. Then start making wholesome preserved foods and beverages with step-by-step recipes for sauerkraut, kombucha, kefir, yogurt, preserved lemons, chutney, kimchi, and more, getting the best out of every season's bounty.
The book is filled with beautiful photos and clear instructions to help you build your skills with confidence. It's no wonder people are fascinated with fermenting-the process is user friendly, and the rewards are huge. Inside you'll find:Fermentation basics-the tools, the ingredients, the processes, and how to get startedSauerkraut and beyond-how to ferment vegetables, including slaw-style, pickles, and kimchiHow to ferment dairy into yogurt, kefir, cre me frai che, butter, and moreHow to ferment your own beverages, including kombucha, vinegar, and hard apple ciderPlus recipes for sourdough, natto, and moreWith this book as your guide, you'll feel in control of your food and your health.
See why so many people are discovering the joys of fermenting!