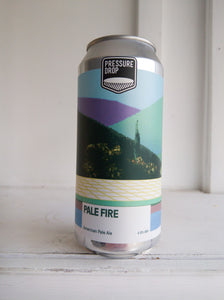 Pressure Drop Pale Fire 4.8% (440ml can)
We've come a long long way together.
If there is one beer that we think of when our minds drift to what Pressure Drop means, it is Pale Fire. Brewed every week since our earliest days, it is our shining, hazy gold, North Star of a beer.
Pale Fire is the definition of the Pressure Drop mantra – "We brew what we would like to drink". Sessionable, with tropical aromas from the Mosaic and Amarillo hops, it is a juicy pale with a balanced bitter finish.
When we first began experimenting with canning here at Pressure Drop, the end goal was always going to be Pale Fire in cans. Spending time with pals, opening a six pack of fresh and crisp Pale Fire, enjoying its easy drinking ways. That has been the dream, now it is the reality.
Find your nearest sun drenched swimming pool, hike in the gentle shade of a pine forest, or, failing that, sit in the hazy summer heat of a city park. Crack open a can, and let the world become a better place.