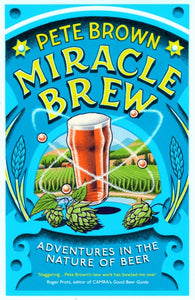 Miracle Brew : Hops, Barley, Water, Yeast and the Nature of Beer by Pete Brown
Shortlisted for the 2017 Andre Simon Food and Drink Book AwardsBeer is the most popular alcoholic drink on the planet, but few who enjoy it know much about how its four ingredients - malted barley, hops, yeast and water - miraculously combine. We've been brewing and drinking beer for thousands of years, without understanding how or why the brewing process works. In the Middle Ages, yeast was called `godisgoode' because no one had any idea what fermentation was.

Malting barley, too, has for centuries seemed genuinely wondrous: it's only in the last 200 years that science has identified and understood how man and yeast work together to gently (or not so gently) persuade this humble grain to give up its sugary stash for fermentation into beer. From the birth of brewing (and civilization) in the Middle East, through an exploration of water's unmurky depths and the surreal madness of drink-sodden hop-blessings in the Czech Republic, to the stunning recreation of the first ever modern beer - Miracle Brew is an extraordinary journey through the nature and science of brewing. Along the way, we'll meet and drink with a cast of characters who reveal the magic of beer and celebrate the joy of drinking it.

And, almost without noticing, we'll learn the naked truth about the world's greatest beverage.