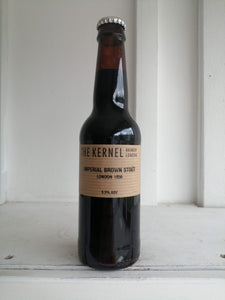 Kernel Imperial Brown Stout 9.5% (330ml bottle)
A recipe from the Barclay Perkins archive. The Imperial Brown Stouts developed into what became known as the Russian Imperial Stouts, and this particular recipe developed into the Courage RIS, which is most notable because a) it was an excellent beer, and b) it continued to be produced until 1992, as the only surviving link to a certain brewing tradition that was huge in London, and made London famous, for over 200 years. And of course, a tradition which is now dead here.
And the beer is black, not brown. Words meant different things in those days. This is not a beast of a beer, despite the abv. It is round and smooth. Gentle. Well behaved. You could introduce it happily to your mother-in-law. All cream and chocolate after the cocoa aroma, then leading to dark fruits, dried fruits, raisin, fig, prune. Even plum. Some sour berries. And the longest finish of herbal bitterness, with hints of lightly roasted coffee.