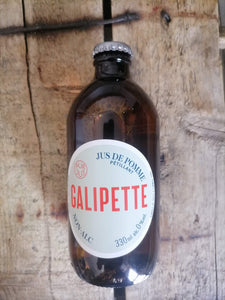 Galipette Jus De Pomme Non-Alc 0% (330ml bottle)
GALIPETTE 0% cleverly gives you all the taste of a great French cider, with none of the alcohol. It has intense orchard and baked apple character and a rich, smooth mouthfeel.
The assemblage uses select sweet and sharp apple varieties grown in the orchards of Brittany and Normandy. Once their pure juice has been naturally combined we allow only a short fermentation, stopped by careful temperature control, before the sugars can turn into alcohol.
The result is 100% pure juice cider. Nothing added. Nothing taken away. Just natural taste at 0% ABV. Enjoy this refreshing guilt-free fizz whenever you like or explore its semi-sweet fruity taste as a great foil to blue cheeses or ricotta & spinach ravioli.
0.0% Alc.
Semi-Sweet