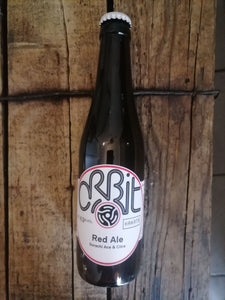 Orbit Hakata Red Ale 4.9% (330ml bottle)
To celebrate the end of British summer, and welcome the start of autumn, we got together again with our friends at Hakata Ramen Bar in Bermondsey to brew a beer tailor made for their Japanese inspired menu.
The beer has a distinctive, unique characteristic from Sorachi Ace, a hop variety developed in Japan in the 1970s. Deep red in colour, this hoppy red ale has a malty, caramel base with an abundance of hop character. Sorachi Ace hops provide hints of coconut, lemon and a touch of oak, with the Citra hops delivering a hit of grapefruit citrus.  
We adjusted the water profile to produce a brewing liquor high in carbonate and phosphoric acid, with a slight alkaline edge to compliment wheat-based ramen noodles.