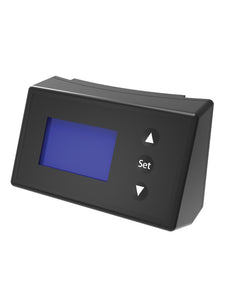 Grainfather Conical Fermenter Digital Temperature Controller
Regular price £56.50 £28.50 Sale
The Grainfather digital Temperature Controller replaces the temperature display. With this you can control the heating and the cooling (if you have the Grainfather Glycol Chiller) of your fermenter by dialling in a temperature or even setting a temperature schedule (can set up to 5 stages). This snaps on easily via magnets and pogo pins with no extra cords or clutter.

WHAT'S INCLUDED?
Temperature Controller

SPECIFICATIONS:
• Control the heating element and Glycol Chiller (available separately)
• Choose between imperial and metric (C° & F°)
• Total of 4 fermentation profiles with up to 5 steps each (2 are pre-set for a lager and a ale, 2 are custom)
• Hysteresis is customisable and able to be set at 0.1 intervals between a range of 0.1°C – 1.9°C & 0.2°F - 2.9°F (the default setting is 0.5°C)

NOTE:
· Profile steps are set to 'auto proceed' by default, when setting up your own profile with steps the choice of 'manual proceed' (i.e. having to push a button to move to the next step) will only be available to select when the user changes the setting 'auto proceed' to off. Each step can then be selected as either auto proceed or manual proceed, depending on the users choice.