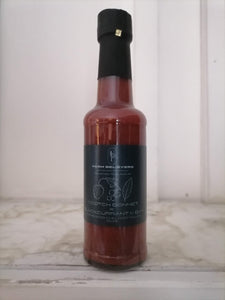 Ferm Believers Scotch Bonnet x Blackcurrant & Bayleaf Hot Sauce (150ml)
Quality Scotch Bonnets (like the ones we use) have a really fruity flavour on their own and we wanted to compliment and elevate those notes using berries, Fresh (not dried) bay leaves have deep, complex fruity notes along with their earthy, 'spicey' clove-like qualities, it seemed obvious the 3 would work beautifully together.
A touch of beetroot carry those earthy notes forwards and we have almost accidentally made something truly unique - a very 'British' tasting hot sauce.
Whilst hot sauce isn't a usual component of a Sunday roast, meat pie, full English, or sausage roll - this one should be.
Now you can add some heat and fermented hot sauce complexity to almost any classic, british or pub-fare without clashing flavours.
As always we aim to make savory, rich sauces so don't expect spicy Ribena, this is rich, tangy and hot, so put away the redcurrant jelly, apply liberally to your favourite pub classics (except fish and chips - Original Sin shines in that scenario) or try a splash in your Bisto / Gravy.
It's what stodgy meals deserve. It's what you deserve. Get on it.