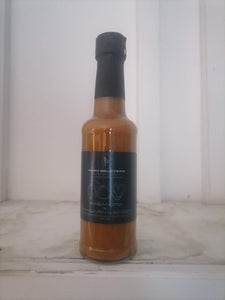 Ferm Believers Habanero x Mandarin & Ginger Hot Sauce (150ml)
Habaneros have a really unique and incredible flavour, we didn't want to make just another overly sweet Mango-Habanero and we like our hot sauce savory and full of natural umami obtained via fermentation - If you do too then look no further.
We have combined the intricate chilli flavours with mandarin and ginger which gives an incredible depth of flavour and heat.
Due to the nature of the pureed mandarin this sauce is less viscous (thinner) than our others so pour with care - although chances are you'll be adding more anyway as this sauce demands to be in every mouthful.
We'd say this sauce is a 'hot' by most standards, mixed with mayo this creates something very interesting to elevate all sorts of dishes.
Despite being a thinner sauce it clings beautifully to chicken, added to Stir fries and elevates pork to cosmic levels.
Vegan