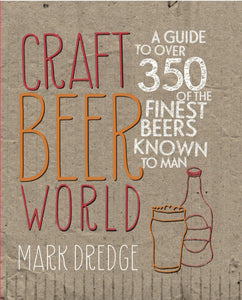 Craft Beer World : A Guide to Over 350 of the Finest Beers Known to Man by Mark Dredge
Regular price £16.99 £8.50 Sale
The last few years have seen an explosion in the popularity of craft beers across the globe, with excellent new brews being produced everywhere from Copenhagen to Colorado, Amsterdam to Auckland. With more amazing beers available than ever before, it's hard to know which ones to choose. That's where Craft Beer World comes in.

Gathering together over 300 of the most innovative and tastiest beers you need to try, and divided into 50 different categories, you will find the best of the best each style has to offer. Every category comes with an explanation of the key characteristics of the style - whether it's an American IPA bursting with citrusy C-hops or an Imperial Stout full of dark roasted malts - along with an example of a classic brew and a selection of cutting edge versions that are certain to become instant favourites. So whether you're looking for bitter beers or balanced flavours, a hit of hops or a hint of coffee, the reviews will point you in the right direction to find the perfect beer to suit your tastebuds.

Also included throughout the book are interesting nuggets of beer information, covering everything from the catalyst that has caused the astonishing growth in craft beer through to matching beer with food and how to serve your drinks.