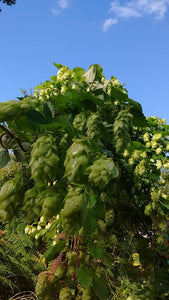 Columbus Whole 100g
Alpha 16.2%
Crop Year: 2020
BBE 08/25
Use in brewing
Dual purpose.
Generally used for main copper hop in the form of extracts and pellets because of the exceedingly high alpha. Have shown to be very aromatic as late hops in cask ales.
Characteristics
Liquorice, Resinous, Black Pepper
Country
USA
Origin/History
Three hop varieties with very high alpha properties were all produced at the same time (the two above plus Zeus) and sold to different grower groups. Since then it has been proven that Columbus and Tomahawk are the same variety (by gas chromatograph) and Zeus is so similar that it is indistinguishable from the other two in the finished product! These hops have taken the USA by storm and acreage of all other US varieties seem to be suffering because of it. They are all be labeled as Super High Alpha.