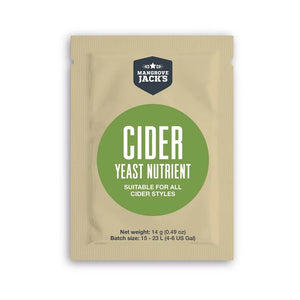 Mangrove Jacks Cider Yeast Nutrient (14g)
A diammonium phosphate-based yeast nutrient complex that supports yeast health to improve fermentation of cider from apple or pear juice. Conveniently packaged in a single dosage sachet so you can always have a pack on hand if you need it.
Yeast nutrients aid in providing an optimal environment for yeast to thrive in, leading to an all-around happier, healthier, and faster fermentation. The use of yeast nutrients can improve the overall flavour, aroma, and quality of the final product, helping your customers produce consistent cider every time.
Directions:
Add sachet contents to 15-23 L (4-6 US Gal) of juice must and stir well to dissolve, then pitch yeast and ferment according to instructions on yeast packaging.
For best results, use with Mangrove Jack's Craft Series Yeast.