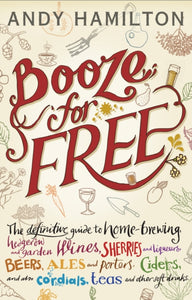 Booze for Free by Andy Hamilton
Home brewing and wine-making is fun, easy and hugely satisfying. If you garden or forage, can follow a recipe or make jam, and you enjoy a drink, this is the book for you. Andy's no-nonsense, easy-to-follow guide will enable the beginner and inspire the expert with over 100 recipes including beer made from hops and but also yarrow, mugwort, elder and other foraged plants, great tasting wines from fruit, vegetables and the hedgerows, cider and perry from apples and pears, cordials from the leaves of a range of trees, and teas and fizzy drinks from herbs and wayside flowers.

- Discover the secret language of home brewing and drinks making. - Make cheap, wholesome drinks, to your preferred taste and strength in little time, with minimum fuss and no need for expensive equipment. - Turn your garden into a drinkers' paradise.

- Find where and how to forage for success. - Impress your friends with the weird, wonderful and just plain tasty. Try Carrot Whisky, Sloe and Damson Rum, Parsnip Sherry, Elderberry and Blackberry Wine, Pumpkin Beer, Broom Tonic, Meadowsweet tea as well as classics such as Elderflower champagne, sloe gin, prison brew...

Cheers!