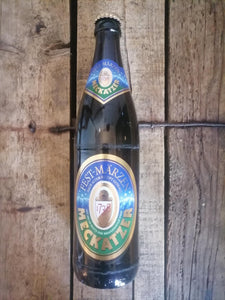 Meckatzer Fest-Marzen 5.4% (500ml bottle)
The golden yellow, shiny Meckatzer Fest-Märzen is brewed especially for Christmas time. It is characterized by its fullness and soft texture. The fine hop notes of the beer harmoniously balance the complex malt aromas and give it its typically spicy character.
It shows up in the glass with golden reflections and pearly white, fine foam. Lovely aromas of hay and mountain meadow delight the nose, including malt notes from dried apricot and pear, nutty nuances and bread crust. The soft initial taste is accompanied by a caramel sweetness and nutty moments.
Original wort: 13.5%
alcohol content: 5.4% vol.
Calorie content: approx. 52 kcal / 0.1 l