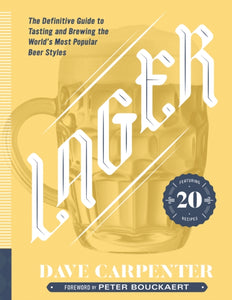 Lager : The Definitive Guide to Tasting and Brewing the World's Most Popular Beer Styles by Dave Carpenter
Regular price £16.99 Sale
Lagers are being reinvented in the United States and abroad as intrepid breweries are rediscovering the joys of colder fermentation and pushing lagers well beyond the realm of pilsner. Lager offers a complete tasting guide to the full spectrum of lager styles, from Munich Helles and Festbier to California Common and Baltic Porter. Taste along and find your new favorite lager! This book also answers such historical and contextual questions as:
Why does lager, not ale, dominate world beer production, despite its comparative difficulty to produce?
Why are certain European styles like Vienna lager more associated with brewing in Mexico than on the Continent?
What does St. Louis have to do with ÄŒeské BudÄ›jovice?
What role does lager play in today's expanding craft beer landscape?
For homebrewers, Lager includes key brewing considerations as well as a selection of lager recipes.