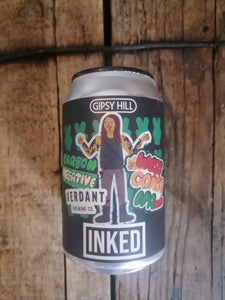 Gipsy Hill Inked 7% (330ml can)
Inked is a 7.0% West Coast IPA brewed in collaboration with Verdant – and released as part of our Carbon Negative Collab Series! An extra special release that proves you CAN make delicious beer and still have a positive impact on the planet.
Brewed using Wildfarmed barley and recaptured and reused hops. 
Smooth and malty with layers of pine and citrus. It's a carbon-negative beer that's flavourful and offset-free – that means absolutely no tree planting to offset the damage.
Its full cradle-to-grave lifecycle has been tracked by Zevero. From growing the ingredients, to brewing and packaging, all the way to delivery to your home and then recycling as normal.
Inked has –90g of CO2e per can. That's more CO2e sequestered per beer than the average tree does in a day.  
Label artwork by Cachete Jack