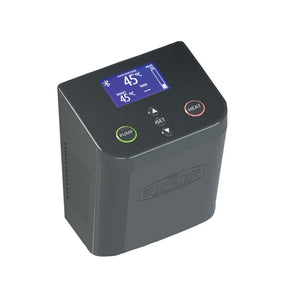 Grainfather G30 Connect Control Box
Regular price £132.00 £66.00 Sale
The G30 Controller is a PID controller with Bluetooth connectivity designed for use with the Grainfather G30 or G30ᵌ. For the ultimate brewing experience, use the G30 Controller with the Grainfather App to build recipes and control your brew day.
Automation without removing the fun of brewing, be as involved as you want to be! More automation means you can multitask or simply relax while brewing and then be alerted when to return for your next step.
Use the Connect Control Box in conjunction with the Connect App (and the recipe creator) for the ultimate brewing experience.
Control Box Features:
Bluetooth connection to your mobile device so it can be controlled remotely
PID algorithm works in conjunction with a triac for more stable heating and so you can control power output
Programmable step mashing
Delayed heating - fill your Grainfather with water the night before and wake up to your water at strike temperature ready for brewing straight away
Change between celsius and fahrenheit easily
Waterproof graphic display
Lugs at rear which can be changed to suit any Grainfather currently on the market
Use in manual mode or with app
App Features:
Grainfather Grain Kit recipes provided in app
Import Beer XML files
Set your own boil temperature (for different altitudes)
Change between celsius and fahrenheit easily
Grainfather calculators provided in app
Online recipe creator - create, share, rate and review brews through this central hub. Then when ready, sync with your app.