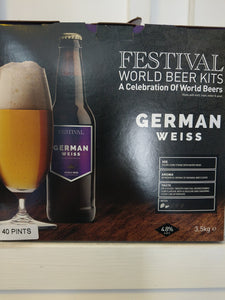 Festival German Weiss World Beer Kit
Regular price £29.50 £14.75 Sale
SALE BBE 10/2023
Festival German Weiss Kit makes 40 pints of a dark straw coloured wheat beer with wonderful aroma of Banana and Cloves. Tastes smooth and full bodied with a light delicate clove aftertaste and bubblegum flavour.
Following on from the successful range of Festival Premium Ale Kits that paid homage to great UK Beers, Festival have introduced the Festival World Beer range to showcase a varied selection of beer styles from around the world. With careful research, help and knowledge from professional brewers, Festival World Beer Kits enable you to recreate examples of a variety of World Beers, all within the comfort of your own home.

Festival World Beers kits use only the very highest quality liquid malt extracts and genuine brewer's yeast and priming sugar. The hop pellets are simply added half way through fermentation infusing flavour and aroma into the finished beer. The precisely measured addition of priming sugar ensures the correct level of carbonation is achieved for each particular style of beer.

Each kit contains only the finest quality ingredients and easy to follow step by step instructions, making Festival World Beer Kits the UK's most comprehensive and complete premium liquid malt extract beer kit ever produced.