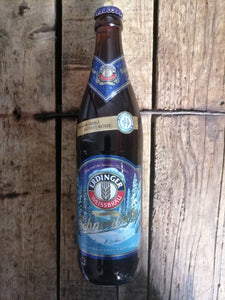 Erdinger Schneeweisse 5.6% (500ml bottle)
ERDINGER Schneeweiße
This is what winter tastes like.
Our delicacy for the cold season: the ERDINGER Schneeweiße with its wonderfully delicately spicy taste.
Velvety malt aromas and a touch of sweetness make this wheat beer so smooth. The strong body is accompanied by delicate notes of red berries and nuts. The carbon dioxide tingles extremely finely on the tongue, while a subtle hop bitterness gives the finish structure. A tasty specialty for everyone who likes it full of character!
Whether by the fireplace or in a friendly atmosphere - the Schneeweiße makes cozy hours in autumn and winter a real pleasure. It is available from October to February. Bavarian noble maturation – for perfect enjoyment.
Brewed according to the Bavarian Purity Law