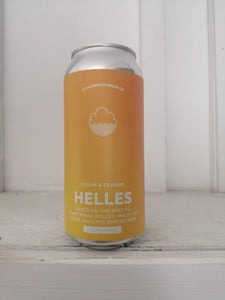 Cloudwater Helles 4.5% (440ml can)
One of our greatest technical brewing challenges lies in presenting Manchester's water, Germany's finest pilsner malt. Bavarian lager yeast, and classic German hops in a beer style that leaves no room for error, with no bold flavours to mask mistakes or imbalance.
Malty yet crisp, delicate and refined, this Helles is a nod not just to German brewing, but to traditional beers the world over. A beer for talking over, and reflecting on its subtle nuances. 
4.5% ABV, 440ml Can
Aroma & Flavour: Subtle notes of fresh white bread, zesty lemon and light herbal accents
Body: Medium body, with moderate carbonation and a crisp finish
Aftertaste: Soft and delicate, with lingering malt accents and low bitterness
ALLERGENS: GLUTEN WHEAT BARLEY OATS