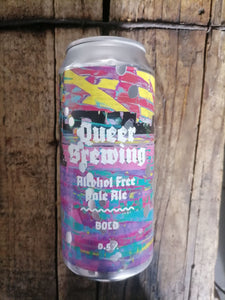 Queer Bold 0.5% (440ml can)
Would you believe it, they've done it again. And by "they" we mean us, and by "it" we mean that we've brewed our second alcohol-free pale ale, named in the mostly-extinct queer language of Polari. Bold translates to homosexual (as do we) but also refers to the nerve, the cheek, a good lippy, or the joy of being a flaming queer.
BOLD is a deliciously hoppy, juicy pale ale—one that builds on everything we loved about Become Your Own God, our first AF pale, but is even better. We've used the same malt bill but two of our favourite hops: Nelson Sauvin and Vic Secret. All the flavour, endless refreshment, none (ish) of the booze.
ALLERGENS: GLUTEN WHEAT BARLEY OATS
VEGAN